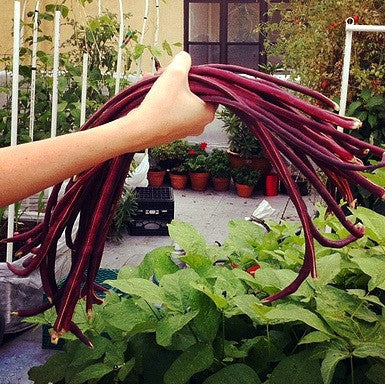 Red Noodle Bean - Asian Heirloom
You may have seen Yard-long Beans before, but this one looks like it's out of Dr. Seuss! The pods don't just grow 3' long, they're red. They're great for kids who don't think they like vegetables.
Noodle Beans are grown throughout Southern China. They're vigorous, prolific, and flower 40 days after sowing. Pods are stringless, sweet and tender, high in iron, magnesium, potassium, and anti-oxidants.
Red Noodle Beans love heat and need something to climb on. Direct sow the seeds in moist soil once it has warmed up. They need full sun, rich soil, regular water. 80-90 days. Harvest when the pods are a foot long or longer.
15 seeds
---
Share this Product
---
More from this collection